Starplate Building System
Build any small structure you need, easily & economically!
Starplates are steel plates, with channels to hold 2×2's, 2×3's or 2×4's. You simply drill holes in each end of 25 struts of equal length and bolt them into the 11 star plates to build a solid, mini-dome framework in UNDER TWO HOURS!
Anyone can erect a sturdy, good looking building… in record time and using up to 15% less material and labor than conventional construction would require. Set includes 11 starplates, complete instructions, bill of materials, dimensions achieved by using various sized struts, and helpful suggestions.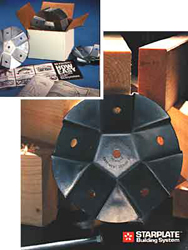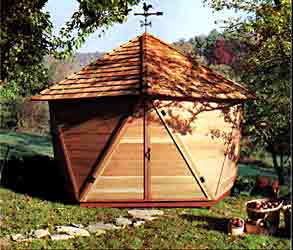 Building Is Easy With Starplates!
What are STARPLATE connectors?
They're heavy-gauge galvanized steel plates with channels to hold 2×4's, 2×3's, or 2×2's so they can be bolted together to make a basic geometric framework. It takes one set (11) of STARPLATE connectors for each framework.
What size framework do they make?
Any size you want up to 9′ struts. STARPLATE connectors hold 25 equal-length struts together. If the struts are all short, say 2 or 3 feet, you've built something small like a dog house or playhouse. If they're up to 9′ long, you've built yourself a greenhouse or weekend hide-away. So, it depends on the length of your struts.

Visit our Size & Materials page for details.
How do I get plans for building with STAR PLATE connectors?
In each box is a construction plan pamphlet with templates at no additional cost. It's fully-illustrated, shows how to add doors, walls, roof, build a foundation. It has a removable template (pattern) page for cutting supports – cut the paper pattern and lay it right on the strut. Very simple! Plus, there's an additional page of short-cuts for several popular projects – gazebo, 10′ storage shed, woodshed, sandbox, playhouse, small animal pen.
What can I build?
You name it – greenhouse, screenhouse, storage building, display stand, beach cabana, cold frame, small animal cage, grape arbor, climbing toy, foam house form, sandbox, corn crib, fruit stand, open woodshed, golf course shelter, playhouse, dog house, animal barn, ice fishing hut, sauna, hunting shelter, warming house, and . . . (a man in New Mexico built a blacksmith foundry using galvanized sheet metal!).

Visit our Idea Gallery for more information!
Could I build a full-size geodesic dome house?
No. Our connectors are designed for smaller use;We recommend a maximum strut length of about 9′. That makes a structure about 14′ wide.
What makes the STARPLATE BUILDING SYSTEM any easier than conventional framing methods like those used to build barn-type storage sheds?
This system uses a bolt-together joint, instead of a toe-nailed one. The frame is self-supporting as you go along. One man or woman can handle most projects.
Do I need any other hardware or materials?
All you need for any frame besides the set of STARPLATE connectors are lumber, (50)5/16th carriage bolts, nuts and washers. If you plan to add a roof or walls for your project, you'll need to choose those materials.
What kind of tools will I need?
A saw, a hand or electric drill, and a wrench for the frame. For roof and walls, you'll need a saw and hammer, and for shingles, a roofing knife. A staple gun comes in handy for wrapping a frame with plastic or screen.
Are walls and roof hard to add?
Walls are easily filled in using horizontal siding boards, or panels of plywood, plastic, sheet metal, etc. The framework is made of 15 sides – all exactly the same. So when one triangular panel is correct, they all are. To make roof eaves, the five roof struts are just made a little longer.
Do I have to be a skilled do-it-yourselfer?
No! STARPLATE buildings can be as simple or fancy as you want. We know a Wisconsin woman and her 12-year-old son who built a 6′ framework, wrapped it with plastic, carried in out onto a frozen lake and went ice fishing — all in an afternoon.
Is this an economical way to build?
The principles of geodesic building provide maximum volume with minimum surface area. Construction plans show you how to cut plywood in a practically waste-free way. Also, much less framing lumber is required than with conventional "stud" construction so material costs are often up to 15% less.
Looks like a simple frame to put up – how long does it take?
To cut the struts, drill the bolt holes, and assemble the frame with the 11 connectors takes about 2 hours. If you're using it as a collapsible display stand, it only takes about 20 minutes to bolt it together or take it down – perfect for easy set up. Greenhouses and screenhouses require less nailing and material cutting so are quicker to finish than, say, a carport on a foundation with an overhead door. One happy thought, greenhouses and screen houses can later be sided to make storage sheds or roofed to make a gazebo. The framework stays the same.
What Can I Build with STARPLATE Connectors?
You name it! – aviary, greenhouse, screenhouse, storage building, small animal cage, animal barn, display stand, beach cabana, cold frame, grape arbor, climbing toy, foam house form, sandbox, corn crib, fruit stand, open woodshed, golf course shelter, playhouse, dog house, ice fishing hut, sauna, hunting shelter, warming house, and more!