Due to these factors, Stromberg's does not export birds, chicks, or eggs outside of the United States, and we are currently unable to ship these items to Hawaii.
Shipments to Alaska may be available, based on ZIP code, please call us at 1-800-720-1134 to determine whether we can ship to your Alaska address.
Generally, we ship live birds within the United States. On a few rare occasions, state regulations restrict what we can ship to a specific state. We try to note this wherever possible, but unlisted restrictions may occur. We will inform you if this is the case.
Extreme weather can temporarily limit our ability to ship birds. Birds will not be shipped when they knowingly will be exposed to extreme heat or cold. We will also arrange our shipping schedule to avoid delays caused by weekends and holidays.
SHIPPING LIVE CHICKS
We always ship healthy day-old stock via USPS Priority Mail. They will arrive in a specially designed box. It is the responsibility of the post office to ensure safe delivery.
Be sure to read the shipment insert for tips and suggestions for proper care of your chicks on arrival.
SHIPPING LIVE ADULT STOCK
Some mature birds can be shipped directly to your hometown post office via EXPRESS MAIL service. Availability of all adult livestock can vary with season. Extreme temperatures can also affect our ability to ship birds to you.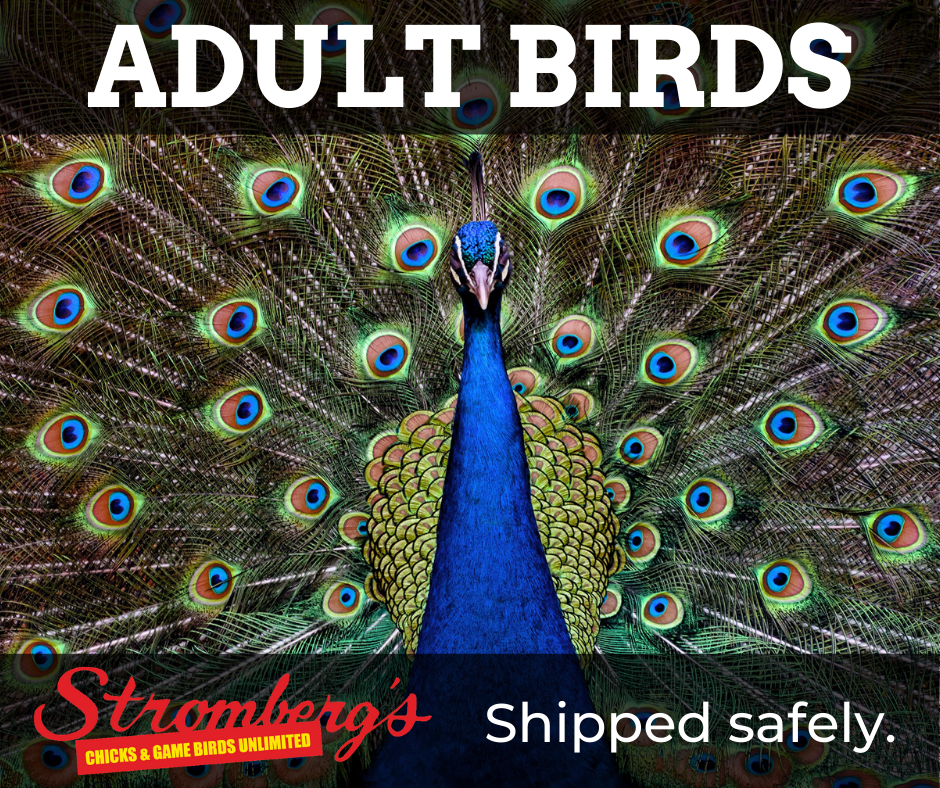 OUR LIVE BIRD GUARANTEE
We appreciate the service of the US Postal Service and the airlines to provide a way to ship baby poultry to your post office, and we are a proud member of the Bird Shippers of America. Please ensure you provide us with a working telephone number for the mailing label for the post office.
We guarantee the live arrival of birds.
Notify us within 48 hours of arrival of any birds that may have died. Please report to us the number of birds ordered and the number of perished birds. We will, at our discretion, refund or replace the purchase price of the dead birds, counting in any extra chicks received.
After business hours you can leave a message on 1-800-720-1134 or notify us via email at info@strombergschickens.com. Please be sure to send your name, address and phone number, and order # from your invoice.
SHIPPING EGGS
For customers who desire to hatch their own chicks, we are pleased to offer hatching eggs. The eggs all come from fertile matings. USPS carefully packs and ships them via Priority Mail.
We do not offer a guarantee on hatching eggs.
Please note: If you need documentation for your birds, save the label included with your live birds and the packing list.